At Capacity
Rec. Sand Volleyball (THUR) - Summer-2, 2020 Volleyball (Sand) · Co-Ed Super Social (Adult)
Sold Out
MonTueWed
Thu
FriSatSun
6:30pm to 9:30pm
Coed Beach 4v4 - 1 Match Per Night (3 Games)!
Free Agent Fees

Early Bird

$65.00

+ $3.00 Processing Fee

Regular

$75.00

+ $3.00 Processing Fee

Late

$85.00

+ $3.00 Processing Fee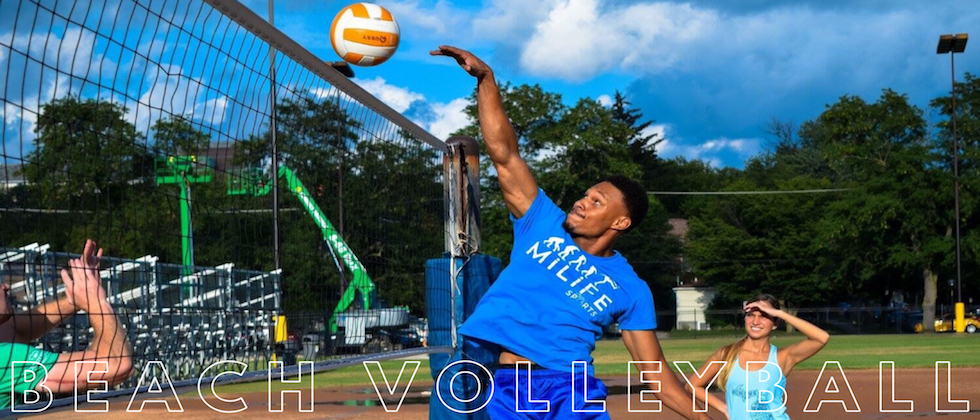 Key Game Rules
Games will be held at EMU's Beach Volleyball Courts

Located directly behind the EMU Bookstore: 900 Oakwood St, Ypsilanti, MI 48197

Teams must consist of 6 players or more, at least 2 of which must be female.

4-players on the court at a time, must have at least 1-female, no male requirements.

Stay off the nets please ;-) (Ladies, be patient with the guys that struggle with this)

You can run the diamond or square as long as players rotate in at the same position.

You must rotate positions on the court! You cannot rotate up to block/spike/or set if you are in the back row!

This is a Rec League, we get that there are some Rockstar athletes, but this is a good way to teach your teammates to set, block, or spike.

Volley for serve 'Every Game'
Rally Scoring to 25 (Every time the ball drops, someone gets a point)
Each night your team will play 1-match, consisting of 3 Games, played to 25-points, win by 2, cap at 30.
Games are self refereed, but there will always be MiLife staff present
If your team is under the 6 player requirement MiLife staff reserve the right to add free agents to your team (See FAQ's for more info)

Games will be played from 6:30-7:30pm, 7:30-8:30pm and 8:30 - 9:30pm so be prepared to play at any of these times!

We are a social league so get ready to have some fun and meet people by the hundreds!

We reseed after week-4. Top teams will move into the tournament for the next 3 weeks to decide an ultimate sand volleyball Champion!

FULL LIST OF BEACH VOLLEYBALL RULES:

Sand Volleyball Rules (2020).pdf
Sponsored Bar: TBD
---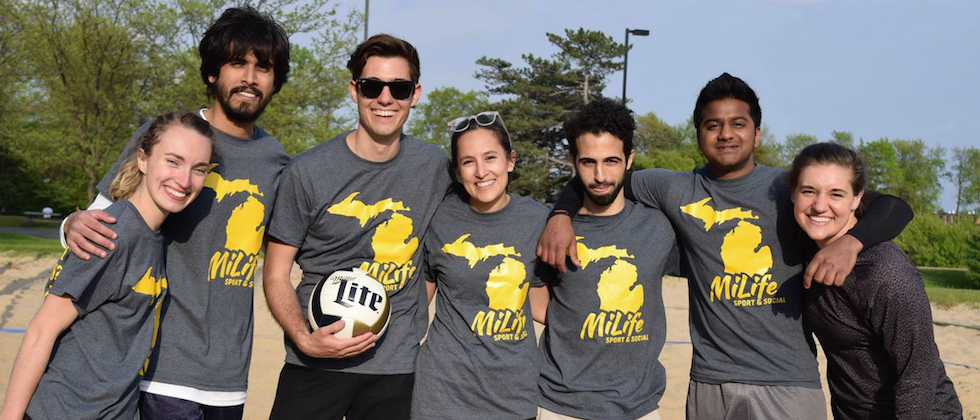 MiLife Sports House Rules:
#1 RULE: The 'Winning Team' owes the 'Losing Team" a pitcher of beer at the bar directly after your games! (Strictly Enforced) *Use this as a peace offering after a hard fought win, a networking tool, or a way to meet your future husband/wife!
RESEEDING: Takes place after week 4 / starting week-5, this creates a tournament for top teams, and keeps games competitive on both sides.
PICTURES: We take a LOT (Annoyingly), but you can check them out on our Facebook or Instagram pages!
DON'T BE A BRO: There are NO scouts at our leagues, and you are not going to the Pro's anytime in the near future (Sorry), so instead of showing everyone that you used to have skills or talk trash, learn how to be a good sport and socialize with other like-minded professionals in our club.
SPONSORED BARS: We have one for EVERY League/Night! Make sure to come out and hang with other people in the league and socialize/play drinking games with your teammates and friends!
*MiLife Players get VIP treatment with food and beer specials each league night!
PRIZES: 1st Place, 2nd Place, Dead-Effing-Last, & Most Social Team!
THEME WEEK: At MiLife we try to bring out the inner child in everyone by doing a theme-week (Usually Week-7) each season so everyone can bust out some old Halloween costumes, or dress up while playing one of our coed sports. (i.g. 90's, Hawaiian, NASCAR, Denim...)
UPDATING SCORES: Winning Teams Captain will update scores through the MiLife Website after games.
*You must be logged into our site for this, click on your profile/league you're playing in/schedule/league night.
*If you have any issues please contact our office for assistance @ 734-545-8859 or MiLifeSportsA2@gmail.com
SUBSTITUTES: We allow subs anytime throughout the season, but they must be over the age of 21, they must be subbing for someone physically not there, and they MUST check in with a MiLife Staff Member and sign a waiver BEFORE stepping onto the field/court.
*Do NOT give subs game shirts to play in. Tell them what color your team is and they can bring their own shirt. This way we know they are subbing.
*If you are in need of a Sub for a game night, you can post on our sub group page, and also sub in on other leagues to check them out. LINK
*A Sub can ONLY sub 3-times in one season for a team/league.
*No Subs are allowed in the Playoffs
CANCELATIONS: Will be reported to players by 4pm the day of games and rescheduled to the end of the season.
HOME & AWAY: At MiLife we incorporate an old school Rock-Paper-Scissors tradition (Best 2 out of 3) to see who's home and away. If neither team knows how to do that, we default to a Rap Battle!
-MiLife Sport & Social leagues are 50% Social and 50% Sport. We do have STAFF at all games; however, we expect individuals to respect the leagues culture of fair and fun play. Foul language towards other players and rough play will not be tolerated and individuals who cannot adhere to our standards of fair play and sportsmanship may be asked to leave the league.
-MiLife Sport & Social Club wants all players to have a fun and social experience while enjoying a great sport. MiLife will do whatever they can to make sure all players are enjoying their leagues and meeting great people.
If your team is under the player minimum MiLife staff reserve the right to add free agents to your team (See FAQ's for more info)
We are a social league so get ready to have some fun and meet people by the hundreds!
---
- 3 WAYS TO JOIN -
We at MiLife Sport & Social love meeting new people, and so do our league members, that's why you join a social league after all! We offer 3 great ways to join our league: team, small group or free agent. So if you wish to play and do not have a full team, you still have the option to sign up as part of a small group or free agent and we will merge you with another group and/or other free agents to form a full team when registration closes.


COMPLETE TEAM

SMALL GROUP

SOLO/FREE AGENT

12+ PLAYERS



2-11 PLAYERS

1 PLAYER


One person will create a team and register with the "Team/Small Group" option.

The captain will have the option to either pay for the entire team or have each player pay individually.

The remaining players will register for and join the team that the captain established.

The captain will be responsible for setting the group name, number of players on the team and picking a team shirt color.

If a team signs up and does not reach the full number of players we will add and merge players to form a full team.

One person will create a team and register with the "Team/Small Group" option (don't worry it's just labeled the same thing).

That person will then set the expected number of players they are planning on having join them in their group.

Once the group has been created the remaining group members will join the group as team players.

When registration closes the league will merge small groups and free agents together to form a full team.

Want to play but don't have anyone else willing to join? That's no problem, you are going to have a great time.

Register as a free agent and the league will place you with a small group and/or other free agents to form a full team after the registration closes.
If you sign up for a MiLife Sport & Social league, and as long as the league happens, we guarantee you will be placed on a team!
Corporate Teams
If you or your company are looking to put together an office team to play a social sport this season, look no further than MiLife Sport & Social. Our leagues are a great way to bring the office together, team build and have fun in a social setting. We offer great company discounts for teams looking to play with us, so if you are interested in signing up your team please email MiLifeSportsA2@gmail.com and we will work with you to get you the best price for your company.